Our Restoring Power Holiday Party was a smashing success! It was full of amazing, incredible people (seriously, everyone kept saying to me, "Such great people at your party!", to which I'd say, "I know! I've been telling you! I'm blessed!"), holiday music, an abundance of food+wine, and good cheer. And how about that harpist, eh? In sum, Gina and I were on high for days after.
What was most memorable however, was the brief but powerful piece we did on 2010 gratitudes~ family style.
For those that were not there, here's how it went:
Each guest was asked to write on a small piece of paper what they are most grateful for in 2010. No name included. Then, drop it in the community jar. Later, we all gathered around and took turns pulling one random piece of paper and reading what was on it. In the end, each person's gratitude got expressed through the community, amplifying it's potency among us.
It was a gorgeous evening and for those that could not make it, we held you in spirit.
Below are images of the evening: the personal gratitude notes along with the party room before the party. All the photos I took with people in them came out blurry! Hopefully this "before the party pic" will bring back warm memories, nonetheless.
Here's to you all. For who you are. What you do. And the life you give.
May 2011 bring us all the opportunity to give what's most important for us to give, and to strengthen what it takes (courage, surrender, vulnerability) to receive all that we need + want to receive.
Happy Holidays!
Love, Love.
regina
xo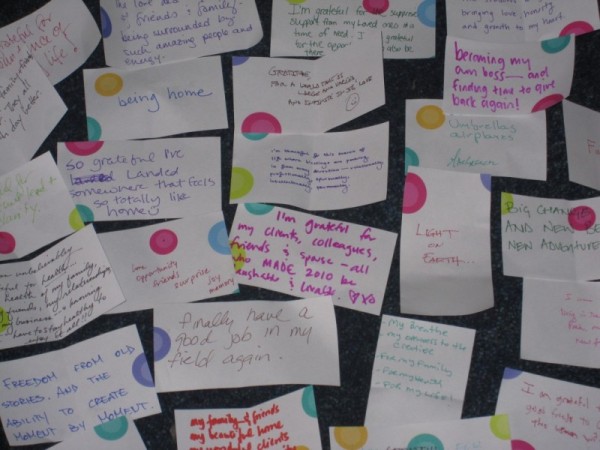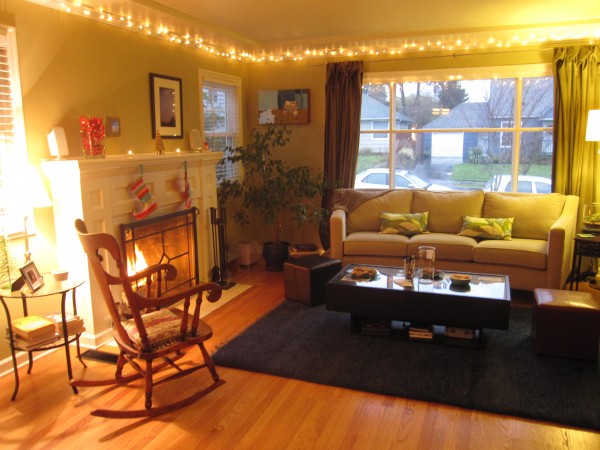 Lastly, here are the (exact) written versions of each and every person's gratitude note. Take a moment and breathe in all that you and your community are grateful for.
My breath
My openness to the creative
For my family
For my health
For my life!
I'm ever so grateful for sooo much…
1. My heath
2. Family
3. Regina and my new support structure
Light
On
Earth
I'm grateful for my clients, colleagues, friends and spouse- all who MADE 2010 be laughable and livable. Xo
I'm thankful for this season of life where blessings are pouring in from every direction- relationally, professionally, spiritually, intellectually, personally.
I'm grateful for the surprise support from my Loved ones in a time of need. I am grateful for the opportunity to also be there for them.
Gratitude,
For a World that is large and varied and infinite in it's love. ☺
I am grateful for the abundance of love in my life!
Grateful for my family and friends both near and far. They all help make each day better.
I am grateful for confusion that leads to seeking clarity.
Freedom from old stories. And the ability to create moment by moment.
Those who cheer me onward, my family, all of you. ☺
I am grateful for good friends to celebrate this season with.
I am grateful for living in the trees by Forest Park, my family and new friendships.
Family + Health
Big Change
And New Beginnings
New Adventures.
Danielle
Umbrellas
Airplanes
becoming my own boss- and finding time to give back again!
So grateful I've landed somewhere that feels so totally like home. ☺
being home.
The love and support of friends and family. Being surrounded by such amazing people and energy.
2010-
I'm grateful for my health. MacGregors endless capacity to LOVE me, and a round trip ticket to Bali.
I am grateful for my mom's successful kidney transplant. ☺
the shadows & light
bringing love, honesty
and growth to my heart.
Love
Opportunity
Friends
Surprise
Joy
Memory
Finally have a good job in my field again.
I am grateful for my wife (new) and family.
My family and friends
My beautiful home
My wonderful clients
Portland, best city I've ever known.
I am unbelievably grateful for health…
The health of my family, my friends, my relationships, and my business– & knowing "I" have to stay healthy to enjoy it all!!